American alligators have both scales AND skin. Their backs have gnarled, knobbly skin: thick and scaly. Their tummies and chins are quite smooth in comparison.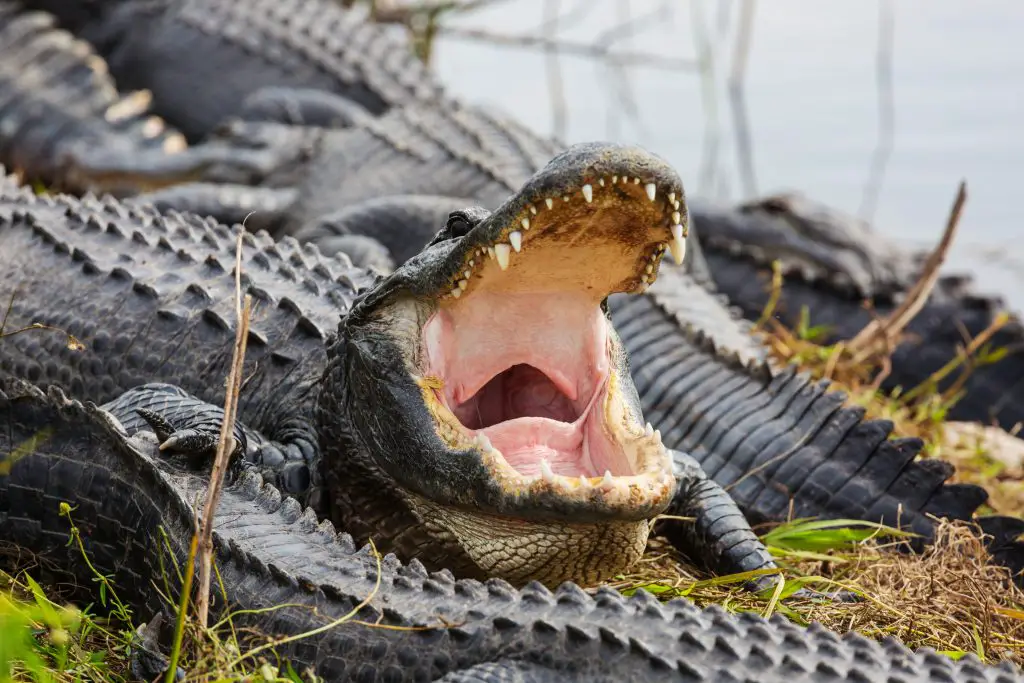 Do Alligators Have Scales Or Skin?
Most reptiles – including alligators – have different versions of skin coverings. Skin is basically any form of outer covering to a body – designed to hold all the rest of the body parts inside and protect it from damage.
These skins take on different forms depending on the animal they grow on and the part of the body that needs the most protection.
American Alligators (Alligator mississippiensis) are typical of reptiles and have thicker ornamental scales on their back, and soft paler scales on their underside. Skin serves a real serious purpose – so reptiles have evolved over the centuries to make it work harder for their needs. They have changed the color and thickness of their skin – and even the shape of it – to disguise themselves.
Through survival of the fittest – the log-like darker backs of alligators camouflage these predators almost to the point of invisibility on the water. Videos show animals approaching the water's edge – not even seeing them sitting there. They can even catch humans out too!
Have Alligators Got Scales Like Fish?
The scales that alligators have are nothing like the scales that fish have. Reptiles have evolved a type of scale that is really like skin fingernails. The skin itself forms hardened patches of keratin and they are raised slightly. Unlike fish scales, alligator scales don't overlap each other to create a streamlined coating – they are more a mosaic of neighboring patches.
Fish scales also come off individually; they are all separate units that can be pulled or rubbed off. An alligator's scales on the other hand are part of their body rather than separate – and are technically called 'scutes' not scales. They function as a whole unit. Just like other reptiles though – this skin is fully shed as the animal grows – but rather than it being shed in one piece like a snake, their skin molts in patches. All the little scales come off in bits and pieces with the new larger scales already formed underneath.
These scales still keep the animal waterproof in the water too – as well as the reverse. The thick skin stops water from going out too. In hot climates, the animal can't afford to become dehydrated – so these protective scales prevent sweating and evaporation off the surface.
Are Alligators Skins Made Of Leather?
Alligator skins are a funny thing – they cross the normal boundaries of what things are called. As names for 'standard' things thought up with common livestock animals – such as leather from cows and scales on a fish, etc. So when another animal is being compared they want to fit them in a category that already exists. When alligator purses became a thing – what should we call them?
Leather is defined as 'a material made from the skin of an animal' – so in a sense, an alligator purse is a leather purse. But, we want people to know that it is something different and so we often call leather goods made from exotic animals as 'skins' – for example; an alligator-skin or gator-hide purse. Why pay more for something if you can't tell, right?
And no-one wants a 'scale purse' or a 'scute purse' do they? So words like 'hide' and 'leather' are the preferred descriptions used.
Are Octopuses Venomous or Poisonous, and What's the Difference?
Octopus venom toxicity explained: Octopuses are venomous, not poisonous, which means their venom is injected through bites and stings. It is primarily used for defense and capturing prey. Octopus venom contains various toxins that can cause paralysis, immobilization, and may even be lethal to their victims. However, it's important to note that not all octopuses possess venom that is harmful to humans.
How Many Alligators Does It Take To Make A Belt?
If you want any old skin and don't mind if it's lumpy – then you could get a belt from the first one you catch. If you want the best belt without faults, super supple, and with just the right color – you might need to grow on 50 gators for 10 years and cross your fingers?
Believe it or not, there are alligator farms up and down the country right now – growing leather for your belts. In the U.S. most alligator leather comes from farmed animals. They live in quite nice enclosures as their skin is so valuable that it can't be harmed by overcrowding, fighting, drying out, or nutritionally deficient.
There are places where they are wild-caught – usually for their meat – but their hides will be used for practical purposes. Crocodiles are caught and farmed for their meat, skin, and eggs (which actually have no yolks!).